3 Great Reasons to Retire in Show Low AZ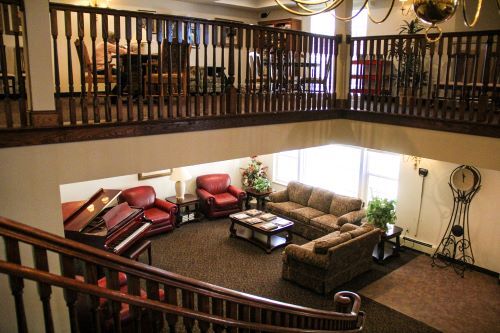 Retirement is meant for relaxing and figuring out how you want to spend your time, without worrying about working through the nice weather or the family events in your life. If you've checked out any of our Solterra Senior Living locations, you know that we're committed to making our residents and their guests as comfortable as possible, while creating an atmosphere of style and independence. We'd love to point out our three favorite reasons to retire in Show Low, Arizona.
1.
Great and Helpful Amenities
One of our best features is that you can complete all your errands without having to run all over town. On top of an extensive activity program, you can visit the beauty salon for some styling or a haircut, visit our private library to replenish your to-read pile, or have a visit with a licensed nurse, all without leaving the building.
Restaurant-style dining takes care of your cravings and nutritional needs, and you can enjoy the outdoors in our beautifully landscaped courtyards. Small pets are welcome no matter which floorplan you decide on, and we provide housekeeping and linen service so you don't have to worry about the housework. Have an appointment out on the town? Let us chauffeur you there.
2. Helpful and Personable Staff
Solterra Senior Living offers three levels of care: independent living, assisted living, and memory care. At each step, you'll receive the best care possible from all of our highly trained staff members. Our personalized care approach stands head and shoulders above higher acuity nursing or the nursing found at group homes because it's designed to center on the specific needs of each resident. When you work with our staff—from physical therapists and nurses to housekeepers and dining staff—our mission is to provide respectful service for everyone in our community.
3. City of Show Low
This city in Navajo County, Arizona, was established in 1870 and incorporated in 1953. There's a lot of interesting local history. For instance, the city was named as a result of a marathon poker game! In a case of "this town ain't big enough for the two of us," ranch partners Corydon E. Cooley and Marion Clark decided to play a game of Seven Up—winner takes the ranch, loser leaves town. When Cooley turned up the lowest possible card to win the game, he famously said, "Show low it is," and the name of the town was established.
In another fitting tribute of this story, Show Low's main street is named Deuce of Clubs. The town is also a great center known for its outdoor recreation, or you can enjoy some games and glitter at the Hon-Dah Resort Casino.
As you can see, it's hardly a contest! Visit our website or swing by for a visit. We would love to show you around your new home.