4 Tips to Help You Make New Friends in Assisted Living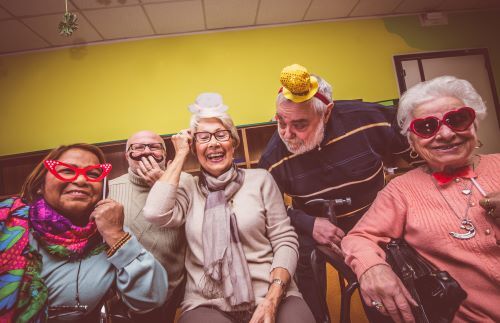 Moving to assisted living should be more than just moving to a new home—it should be like moving into a new community or neighborhood. It's important for residents to socialize. Socialization has such positive effects on aging seniors, especially in terms of benefitting their mental health. Because of this, at Solterra Senior Living, we encourage our new residents to make new friends in assisted living. We understand that it could seem intimidating, but here are four tips to help you make new friends in assisted living.
1. Attend Events Within the Community
Most assisted living communities offer engaging activities and events right on-site. Take advantage of these. Specifically, at Solterra Senior Living, we offer social, cultural, and recreational events daily, so there is always something going on, and our residents can choose what piques their interest the most. By attending such events, residents spend time alongside other residents with similar interests and skills to theirs, making for a great atmosphere for friendships to develop.
2. Have Meals Outside of Your Apartment
We are not saying that you should feel obligated to eat in the communal dining hall, but maybe a couple of meals a week can happen outside of your apartment. Think back to the schooldays—wasn't the lunchroom the place to sit with new people and develop friendships? It's the same, even in an assisted living community. Especially here at Solterra, we offer restaurant-style dining with menu variety for our residents to take advantage of. Come enjoy and sit with new people.
3. Play Games Together
Who doesn't love a good board game? Plus, games like trivial pursuit, canasta, and chess are great for older adults. But these games can't be played alone. Find someone in a common area who looks as though they're interested in a game or ask a care nurse if they know of anyone who would like to play. Then set up a game and play together. Laughing over a game or making playing a routine are both great ways to foster friendships.
4. Find Other New Residents
It can be intimidating being the new kid (or senior) on the block. Because of that, it is a good idea to see who else may be new to the community and to strike up a conversation with them. There is a good chance they are feeling the same concerns as you, and they likely are looking for someone to talk to as well.
We know that these four tips will help you make new friends in assisted living. At Solterra Senior Living, we want all our residents to become friends. This is why we offer ample socialization activities daily as well as restaurant-style dining and games available to play. If you are not comfortable taking the initiative on any of the above yourself, our care staff is happy to help you. Just let one of us know. We want everyone to feel at home here in our community, and we know that making and having friends you can hang out with is so important.